From an early age Vickie was aware of the subtle energies that surround us all. She was a psychic child who was interested in all forms of creative expression. Later in life she would come to realize the strong correlation between creativity and spirituality, as both are an expression of source energy.
While music is at the core of her expression, Vickie also creates art, multimedia, divination decks, adult coloring books, and other tools for personal growth.
Author of several metaphysical themed books, Vickie is continually expanding on her visionary inspirations.
---
Learn how to interpret your free birth chart with this comprehensive video tutorial.  Available on Gumroad.
---
LATEST ADDITION
Vickie's latest book of channeled material now available!
Transmissions for Humanity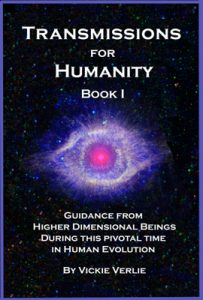 Guidance from Higher Dimensional Beings During this Pivotal Time in Human Evolution.


Listen for free on Audible
---
Tees now available on Teespring and Amazon!
---
Casting Lots – A new tool for divination!
A mixture of Oracle cards and Runes.
Use the lots in conjunction with your favorite oracle cards, or as a stand alone divination tool.
---
Upcoming projects include new divination decks, new children's songs and animations, and new music. Stay tuned for future updates.
---